Graduation 2022
We are so proud of you 2022 Graduates!!!
Dine with Avenida Brazil - we are here to help you with throwing a graduation celebration! Avenida Brazil is the best restaurant for a graduation dinner!
Avenida Brazil has dine in and to go options for graduation to make it a special occasion. Enjoy pick up, curbside, dine in or group private rooms.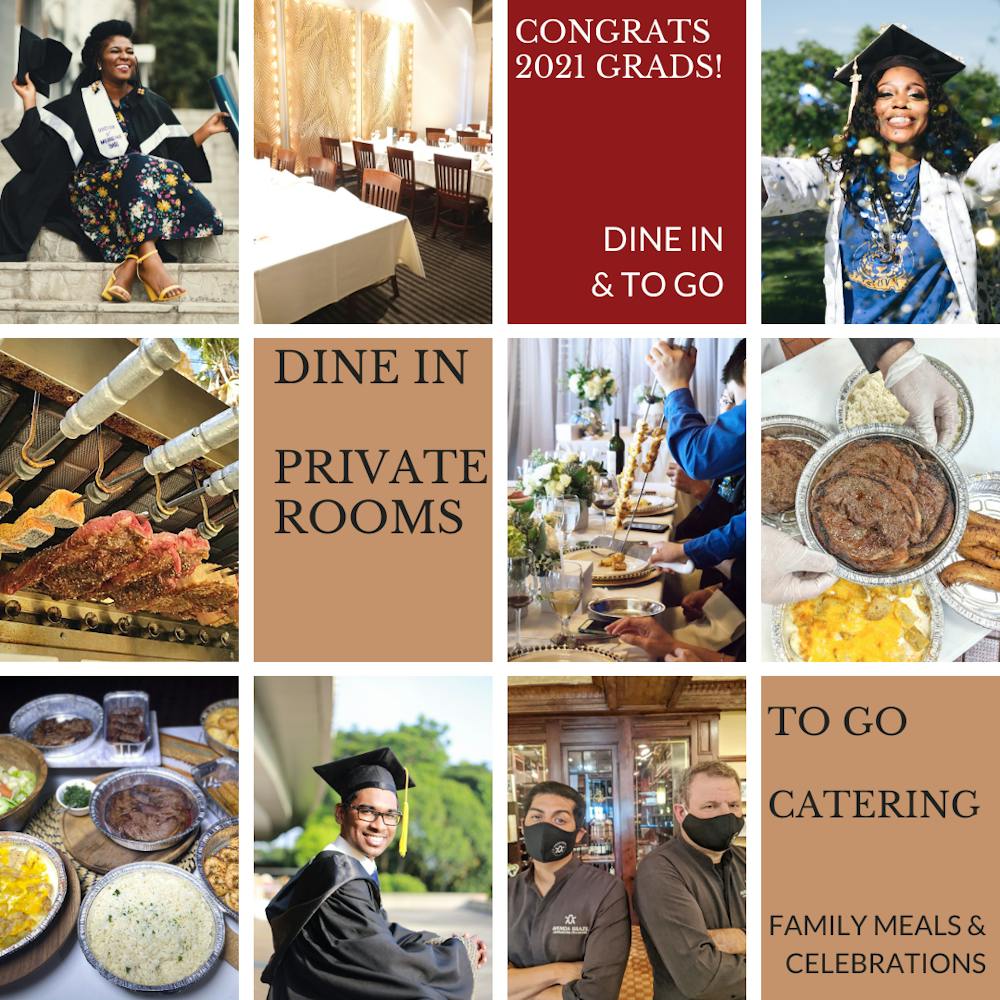 Celebrate your Graduate
Dine In | Private Dining
We are following all CDC recommendations in order to provide our customers and employees with a positively memorable experience. Enjoy our unlimited selections of steaks, seafood, poultry, salad bar (served by an attendant) and award winning hot sides.
-Prices: Dinner $52.50* 16 Cuts of Meat, Salad & Hot sides | Sunday Lunch, Salad Bar & 16 Meats $45
-More dine in info: Menus & Reserve your table here.
-Private Dining: Celebrate in one of our beautiful private rooms! See our group menus & room information for each location - Clear Lake | Southwest Houston | Woodlands
To Go | Catering
Our to go menus are perfect for your graduate!! Avenida Brazil has your celebratory menu covered with the perfect grilled steak selections.
-To Go Celebration Feasts are perfect for your graduate! For $160 the family meal serves 4-people. The 3 course menu includes Brazilian heart of palm salad, 1 LB Ribeye steak , 1 LB Picanha (top sirloin) Steak, 1 LB of Bottom Sirloin steak, 1 LB marinated shrimp, parmesan cheese bread, au gratin potatoes, garlic rice, carmelized bananas and for dessert NY style cheesecake. Add a Make it a party kit for just $12 which includes your staples for a cute celebration including confetti, balloons, banner and more.
-More to go options here. Check out our family meals, or our grilled/raw steaks by the pound. Special menus for dietary needs such as halal or gluten free.
-Order Online here.
-Catering: Larger group? We offer a variety of menus for every budget. Catering can include staff or just be a drop off. Contact us today to help you organize your unforgettable 2020 grad celebration. More catering info here.