Christmas Eve & Day | Dine In
December 24, 2021 until December 25, 2021
Enjoy American and Brazilian traditions for your Christmas!
CELEBRATE CHRISTMAS!
Open For Dine-In
Dine In: Reservations or Call the restaurant
Join us for a Christmas memory you and your loved ones will treasure forever.
---


CHRISTMAS DINE IN
Make your reservation soon, limited seating available.
Christmas Day Prices | Hours 11am-9pm
Participating Locations: Woodlands, Clear Lake & Southwest Houston
-Our Signature Churrascaria Style Menu includes 16 selections of grilled steaks, seafood, poultry and pork, salad bar and hot sides // $57 per guest
-Seafood (Salmon & Shrimp), Salad Bar & Sides // $39 per guest
-Salad Bar & Sides // $25 per guest
Kids 3 & under: complimentary | Kids 4 & 5 years old: $12 Kids 6-10 years old: $28.50
Not included are beverages, dessert, tax and gratuity. 20% gratuity added for tables with 5 and more guests.
---
RESERVE TODAY!
WHERE TO MAKE RESERVATIONS
Clear Lake 281-557-9999 | 201 West Bay Area Blvd, Webster TX
Woodlands 281-651-5369 | 1400 Research Forest Dr., Shenandoah TX
Southwest Houston 281-277-9292 | 12350 Southwest Freeway, Stafford TX
Dine In: Reservations or Call the restaurant
*Consuming raw or undercooked meats, fish, shellfish, or fresh shell eggs may increase your risk of foodborne illness, especially if you have certain medical conditions. Before placing your order, please inform your server if anyone in your party has a food allergy.
---
Menus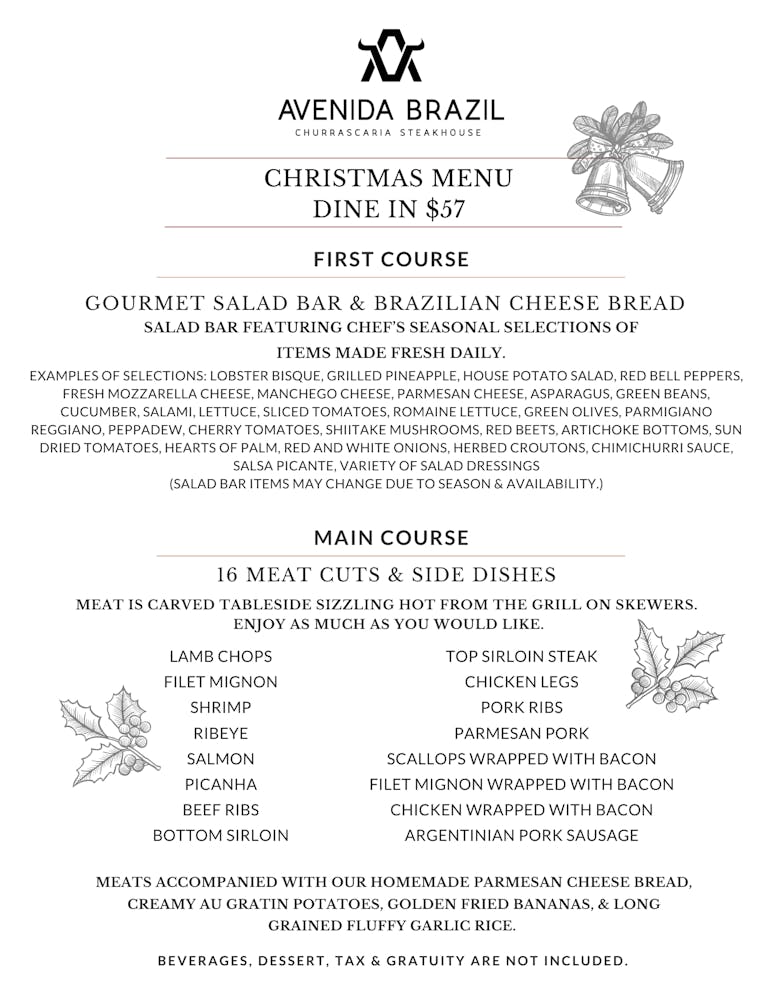 Hurry and reserve your table, we still have some times available.